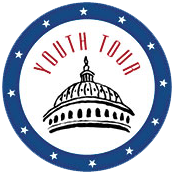 full width paragraph
Each year, MJM sends two high school students to Washington, D.C., on a week-long educational trip where they learn how the government and electric cooperatives operate. It's a great opportunity for students to expand their horizons.   Students of MJM Electric Cooperative members and MJM employees are eligible to attend the Youth Day in Springfield, IL and the Youth to Washington Tour! Up to ten students will be selected to attend Youth Day in Springfield. In addition, up to two students will be chosen to represent MJM by attending an all-expense paid, week-long trip to Washington D.C., with other winners from across the nation.  This is a once-in-a-lifetime opportunity to see our government at work and tour national sites, monuments, and museums. To be eligible, the student(s) must currently be a high school sophomore or junior and be able to attend the trip to Washington D.C. in June, if selected.
YOUTH DAY - March 29th, 2023 - Springfield, IL
The first step towards qualifying for the Washington D.C. trip is Youth Day. This is a trip to the Capitol Building in Springfield, Illinois, where students visit government offices, watch the legislative process in action, meet with their elected representatives, hear speeches on topics of the day and participate in activities with other youth from around Illinois.
Students gain a personal understanding of American history and their role as a citizen by meeting their Representative and Senators. While student groups are organized at the state level, they all come together for Youth Day, where they get to meet each other and hear featured speakers who provide insight to the important roles electric cooperatives play in their communities. 
Deadline: January 13th, 2023
YOUTH TOUR - June 16 to 23, 2023 - Washington D.C.
About Youth Tour- The Electric Cooperative Youth Tour has brought high school students to Washington, D.C. for a week in June every year since the late 1950s. Students apply and are selected for this program by their local electric cooperative. We believe that students should see their nation's capital up close, learn about the political process and interact with their elected officials.
Youth Tour is designed to provide an opportunity for outstanding rural young people (like you) to better understand the value of rural electrification. It familiarizes you with the historic and political environment of our nation's Capital through first-hand looks at monuments, government buildings, and cooperative organizations.
Both trips are chaperoned by adults and are expense-free for the students.
Interested high school sophomores and juniors, please contact Eric Cooper at 217-707-6028 for more details.