The MJM Membership unanimously voted to launch Operation Round Up (ORU) at the March 7th, 2020 annual meeting. MJM's program started in January 2021 and can be viewed on the bills Members' bill each month. Members are automatically enrolled in the program; however, if they do not want to participate, they may opt out. In order to do so, please fill out the form located under the "Opt Out vs Opt In" tab and mail it to MJM Electric, P.O. Box 80, Carlinville, IL, 62626. Once the program begins, Members still have the opportunity to opt back in or out at any time. Members may also choose to contribute extra money each month in addition to the rounded-up amount. To contact MJM about ORU, please call 217-707-6032 or email roundup@mjmec.coop. When you call our ORU phone number, you will reach a voicemail to leave your information. If you are opting out, you will not receive a phone call back. If you are wanting to be called back, please indicate that in your message. With each form of contact, please include the name on the account, your account number(s), and a current phone number. We thank YOU for voting 'yes' at the 2020 annual meeting which gives YOUR co-op this opportunity to assist in serving YOUR communities.
The mission of the Operation Round Up® Program is to assist in strengthening the communities served by MJM Electric. Through this innovative program, the "small change" is earmarked for community betterment groups and other programs in need of financial assistance.
Operation Round Up Funds Available Now!
MJM is proud to announce that Operation Round Up applications are available to the public. All non-for-profits, 501(c)(3) organizations are encouraged to apply for a grant. Once your applications are completed and submitted, these applications will then be viewed by the Grant Review Board for approval of funds. Please send all applications, additional forms, and paperwork to ORU - Brooke Gross, P.O. Box 80, Carlinville, IL, 62626. Please see the ORU Application Guidelines and ORU Application below for more details. For any questions regarding ORU or the application process, please call Brooke Gross at 217-707-6028. 
$igned, $ealed, and Delivered!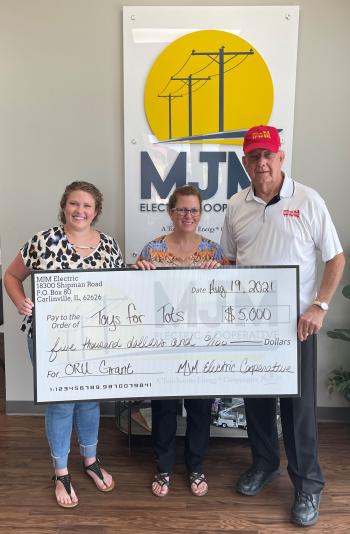 Toys for Tots out of Medora was the FIRST check MJM was able to present from Operation Round Up (ORU) funds. Toys for Toys, based out of Medora, received a check for $5,000. The grant will go towards families in need of a Christmas gift for their children. Presenting the check is Communication and Member Services Coordinator Brooke Gross and ORU Chairwoman Debbi Waters. Accepting the check is Member Webb Cunningham. Read more details from September 2021's Along the Lines by clicking here.