ENERGY USE TIPS
ALL space heaters are energy hogs. They will use roughly 1,500 watts of energy per hour! That's $3.42/day or $102.60/month if used 24 hours a day.
 
Every space heater has its watt usage on the back: 1,000 watts = 1 kWh. kWh is Kilowatt/hour. Take the kWh calculation x the current rate (check latest bill to find it).
 
You will spend less money by adjusting your thermostat, or using the space heater as intended – to heat a small space for a short period of time.
 
An electric blanket is a nighttime heating alternative.
 
Investing in insulation for the attic and around duct work will save on energy use. Check the duct work for possible problems and your fireplace damper for heat loss.
 
Caulk and weatherstrip windows and doors to prevent heat loss, and use ceiling fans to help pull warm air from other parts of the house.
SAFETY TIPS
Never leave a space heater unattended or use while asleep
 
Inspect power cord regularly, don't use if damaged
 
Use on a level surface
 
Don't use near foot traffic, children or pets, and keep it at least three feet away from furniture, curtains, decorations and walls
 
Newer models have the latest safety features
 
Buy a heater with the cool-to-the-touch cabinet feature
 
Make sure heater has Underwriters Laboratories label (UL)
 
Portable heaters should have a tip-over safety shut-off device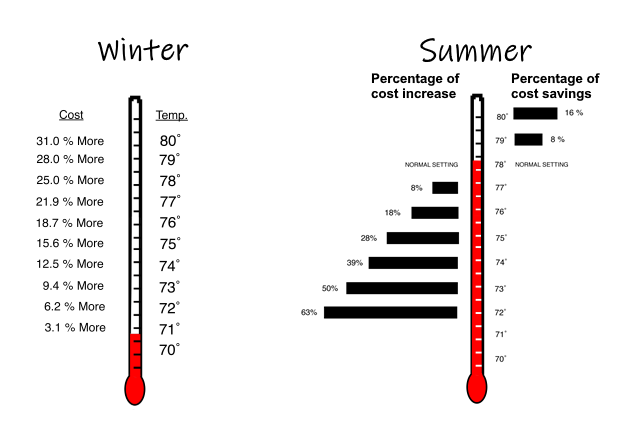 Wise Usage
Using energy wisely helps you lower your energy costs, and helps MJM Electric provide stable rates and reliable energy now and into the future. By using energy wisely the generating capacity can be optimized in order to postpone building costly new power plants. So everything you do to reduce your energy use not only helps us manage growth, it also helps you manage your energy budget.
---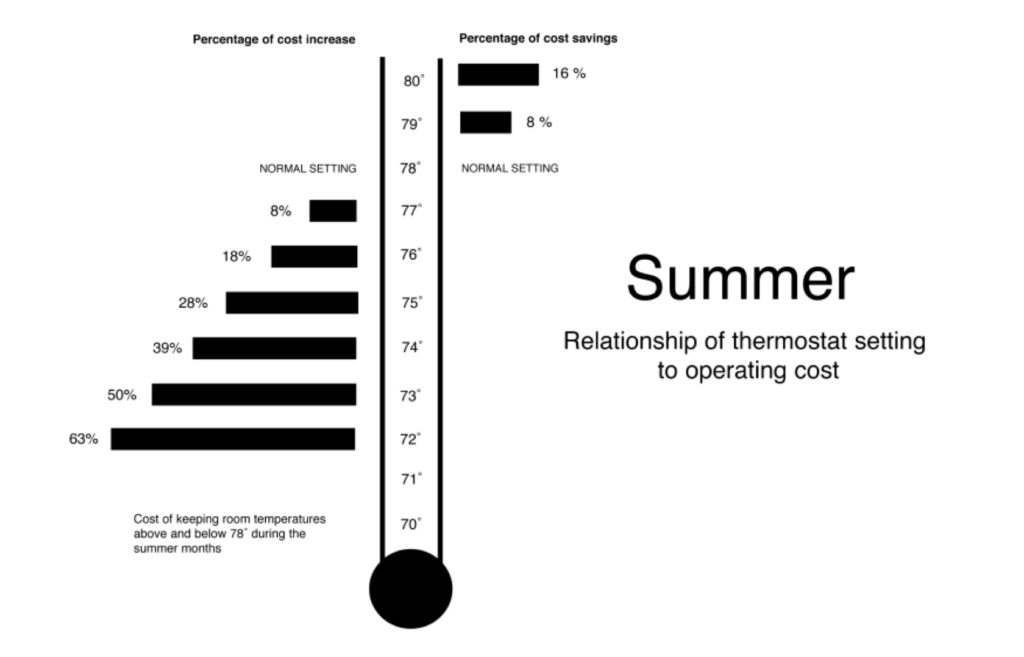 Summer Savings Tips
Stay cool and save money with these energy efficiency tips.
Clean or replace filters. Dirty filters restrict the air flow and can really hurt efficiency
 
Raise the temperature setting on the A/C unit. One degree higher can equate to 8% + savings.
 
Use a fan to move air around you to feel comfortable at the higher temperature setting (wind chill effect). One ceiling fan can make the area in its breeze feel cooler. Have the fan blow down. Shut the fan off when not in the room. If you use air conditioning, a ceiling fan will allow you to raise the thermostat setting 4°F or more with no reduction in comfort.
 
Control the humidity in the areas you are air conditioning. Up to half the cost of air conditioning is in removing humidity. Use exhaust fans in bathrooms and while cooking.
 
Seal up any outdoor leaks that blow hot humid air into the house from outdoors.
 
Turn off unneeded lights or any other heat generating appliances. Replace standard incandescent lights with LED's. They will give off the same light and only put off 1/3 the amount of heat.
 
Close window shades on the south and west facing walls. Use insulating shades if possible.
 
Make sure the outdoor coil is free of debris. Have the A/C unit serviced regularly.
 
Raise the temperature up on the thermostat during the day if you are going to be gone 5 – 10 degrees. Avoid reintroducing humidity back into the house within a short time frame.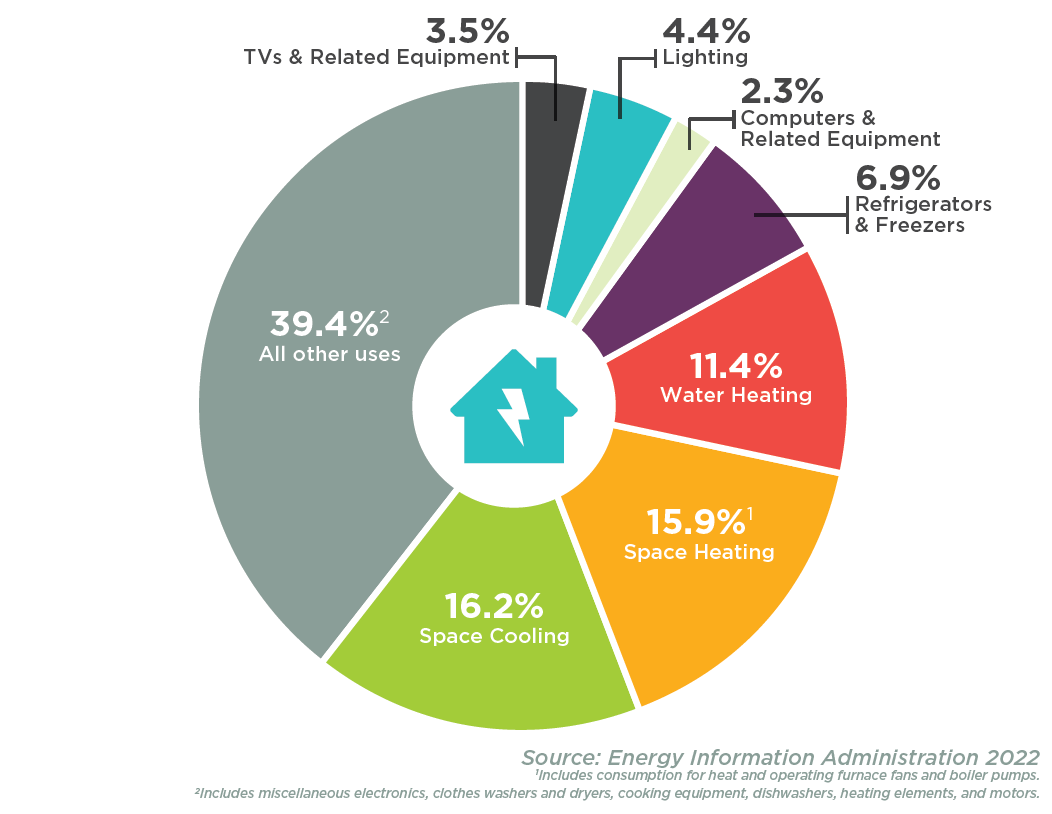 Home Energy Saving Tips
Leaving unnecessary lights on increases energy costs
Turn off computers and other office equipment when not being used, especially overnight and weekends
Heating your home to higher than 68° in the winter or cooling it below 78° in the summer costs extra (savings vary with extreme cold or hot outdoor temperature)
Taking extra long showers runs up the water heating (and water/sewer) bills
---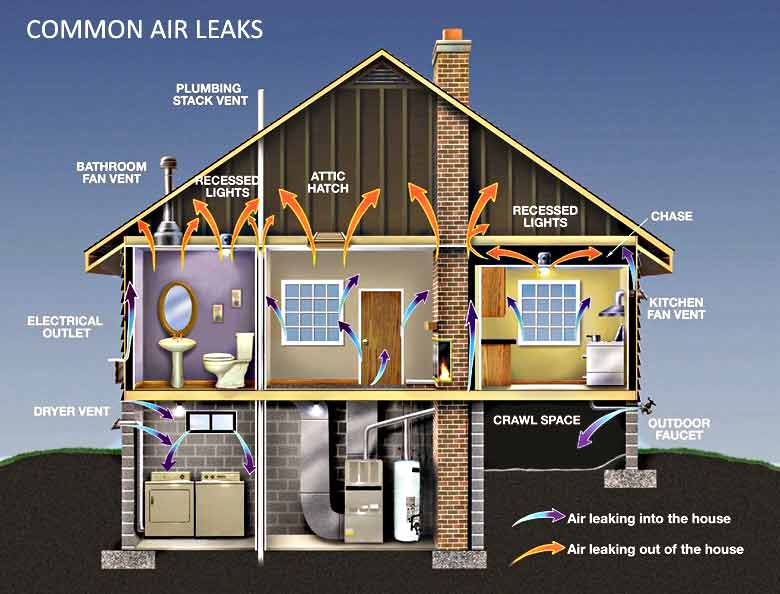 Winter Savings Tips
Open curtains on your south-facing windows during the day to allow sunlight to naturally heat your home. Close them at night to reduce the chill you may feel from cold windows.
 
Find and seal leaks around utility cut-throughs for pipes, gaps around chimneys and recessed lights in insulated ceilings. Add caulk or weatherstripping to seal air leaks around doors and windows. (See diagram of common air leaks below.)
 
Cover drafty windows. Use a heavy-duty, clear plastic sheet on a frame or tape clear plastic film to the inside of your window frames during the cold winter months. Make sure the plastic is sealed tightly to the frame to help reduce infiltration.
 
Install tight-fitting, insulating drapes or shades on windows that feel drafty after weatherizing.
 
Adjust the temperature. When you are home and awake, set your thermostat as low as is comfortable. Regularly schedule service for your heating system.
 
When you are asleep or out of the house, turn your thermostat back 5° to 10° for eight hours and save around 10% a year on your heating and cooling bills. A smart or programmable thermostat can make it easy to set back your temperature.
 
Keep your fireplace damper closed unless a fire is burning. Check the seal on the fireplace flue damper and make it as snug as possible.
---
INSULATION
Properly insulating your home plays a major part in energy usage:

CLICK HERE to see recommended insulation for IL homes.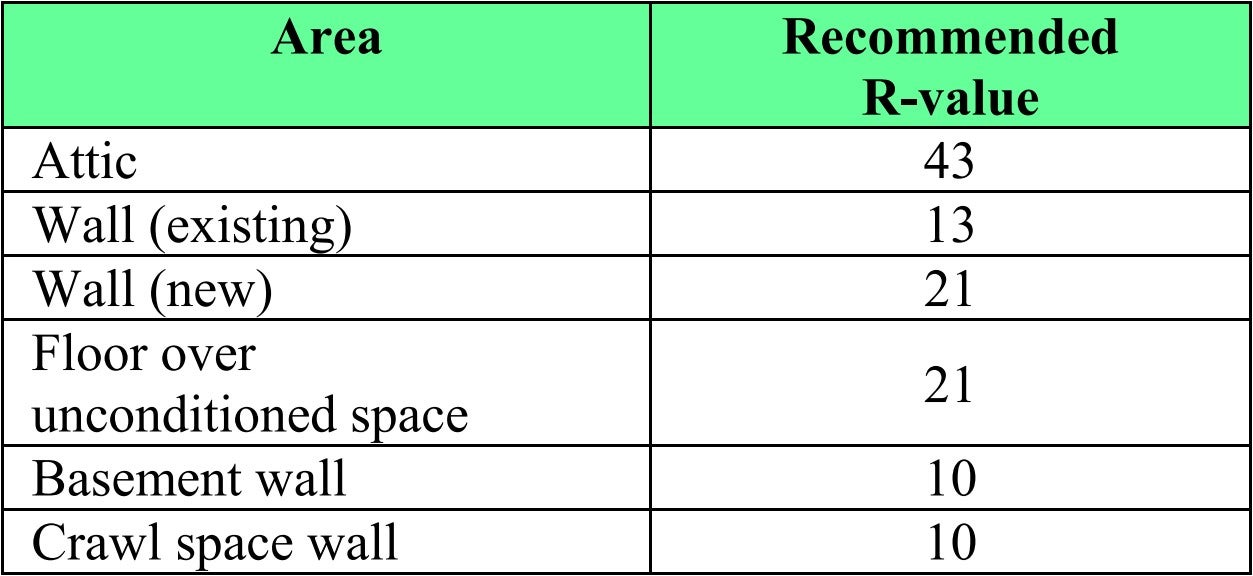 ---
WHAT THE WATT?
Watt:
All devices require a specific amount of wattage to operate properly. (Example: perhaps a small space heater requires about 1,000 watts)

Kilowatt: Basic unit of electrical power. A kilowatt equals 1,000 watts. (Example: the small space heater requires 1.0 kilowatt)

Kilowatt-hour (kWh): One kilowatt of power used for one hour equals one kilowatt-hour. (Example: the small space heater, left on for one hour, uses 1 kilowatt-hour. At 10 cents per kWh, that heater costs $2.40 per day and $72 per month if on continuously.)

Most appliances list the power used in watts. Look for the serial plate on the bottom or back of the appliance to determine watts used. (120 watts might be written 120W)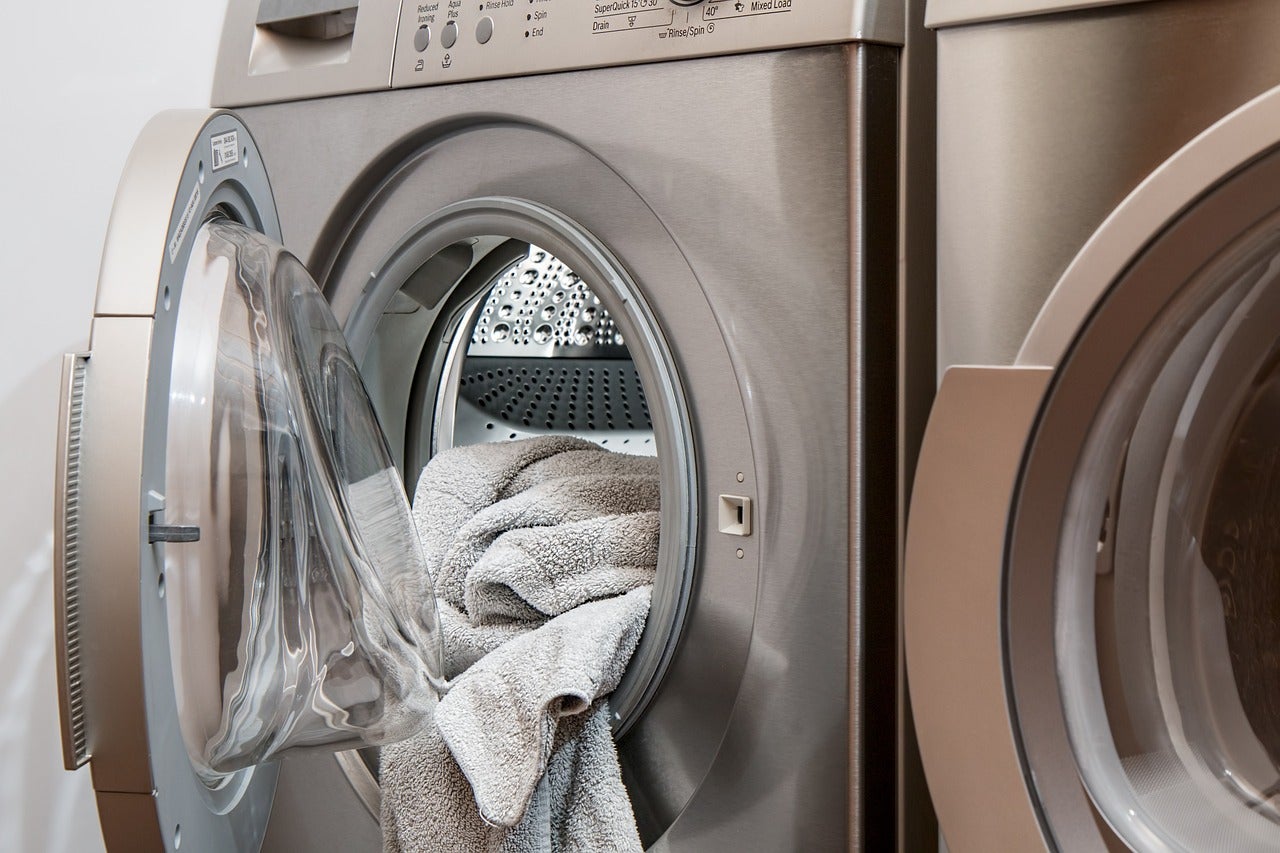 ALSO, SEE OUR "STAY SAFE" PAGE
For a variety of Electrical Safety Tips (Digging, Space Heater, Generator, and more).